By: Domina Cinara - November 2nd, 2014

Men are toys to be played with and used by the female…
Teased and manipulated by the truly dominant sex that rules their desires.
Helpess before her body and mind… so easily made into her willing plaything.
And you know its true… afterall, thats why you're here.
Femdom Phone Sex
(By: Domina Cinara) Hello everyone… its been such a very long time since I spoke to you here.
I know you've all missed me… and I must admit, I was quite pleased by all the messages and letters this site has received while Ive been away.
Ive spent most of these last years in Europe… predominantly Scandinavia… but Ive returned to the USA and plan to stay here for a while.
I left my femdom websites up while I was gone. I was in the process of revamping and expanded my online presence (both phone sex and femdom stories) when my life took a very different course from what I had been planning then. My move was unexpected and abrupt, with no time to make an announcement here (like I really had to stop and explain myself to all of you anyway LoL). The opportunity I was presented with was just too good to miss, and the time I had to accept it and leave was barely enough to get my affairs in order before I left.
I really enjoyed myself and the decision to go was worth it beyond my expectations. I lived in a number of different countries working within the BSDM community, doing everything from exclusive dominatrix sessions to private fetish modeling. Later, I got involved with the business side of the underground BDSM club scene, where I was able to turn my fantasies into a reality through private theme based events for the truly daring.
Ive got so many nasty stories to tell… so many exciting experiences to share ~grinz~
I recently took a look at these sites and they brought back a lot of memories… the time I spent with you all here… and on my older phone sex sites years ago. All the phone sex sessions I did with my naughty little boys and girls… All the femdom fantasies we explored together in such deliciously nasty ways… all the wonderfully horrible things I did to you that made you writhe and scream and beg for more.
And of course that got me thinking about doing phone sex sessions again.
And since Im not someone to deny myself anything I want once my mind desires it LoL… that quickly led to me deciding to retake my throne as a top phone sex dominatrix.
So I will be taking femdom phone sex calls again starting Monday, November 3rd.
My schedule is limited so I will be posting set times I am available to take calls.
And I will of course set up appointments for phone sex sessions in advance.
I do look forward to speaking to all of you that Ive enjoyed so much over the years… and to finding new toys I can mold into wonderful little playthings I can tease and break in such exciting ways ~grinz evil~


Domina Cinara
Femdom Stories – Erotic Audio
BDSM Phone Sex
1-877-274-8292

I love extreme sex and sexual fantasies… exploring the dark corners of desire.
While the body has its limitations… the mind can explore the extremes I love freely.
Thats why I enjoy phone sex as part of me sexuality.
Even though I actively engage in BDSM in real life… phone sex lets me go beyond the limits.
Listed Under: Dominatrix Phone Sex, Female Domination
Tags: Domina Cinara, Dominatrix, Phone Sex
Comments (0)

By: Domina Cinara - May 19th, 2010

Tease and denial games can be very easily played during femdom phone sex…
Cock control achieved by the dominatrix through teasing and tormenting the slave.
Sometimes sexy… sometimes cruel… manipulating his need…
To the point that his balls are ready to burst and he will do anything to cum.
Cock Control
(By: Domina Cinara) I recently ran into a slave boy I used to play with back when I was in college. I think I was about 20 when I first met him… we didn't know each other very long – after a few months I traded him to a friend for a shemale slut I was obsessed with fisting (she was so damn hot… a beautiful girl that you'd never believe was a shemale unless she took her panties off… with an uncut 7 inch cock and such a greedy asshole) – but he had an impressive talent that I helped to further develop through a special kind of cock control.
The thing I remember most about this male slave was how much cum came out of him when he'd have an orgasm. I love seeing big, thick loads pour out of my boys when I command them to cum… and this guy's penis was like fucking geyser. As soon as I saw what his cock and balls were capable of, I immediately began experimenting with different kinds of cock control and orgasm training to push the volume to its maximum potential. His penis was very responsive and I remember a messy public demonstration involving a slave girl's hands and mouth that made him quite the star of the evening. If it wasn't for that hot shemale slut I would have kept him much longer.
Since then, this kind of cock control has been a hobby of mine… something I've worked with many times on personal slaves and through femdom phone sex. The explosive results are always spectacular ~laughs~, and I know that with the right material I can easily take an average penis and turn it into a raging cum fountain.
It takes some time… while a single phone sex session can produce sizable results, to really get the volume I'm talking about, you have to mix strict cock control and regular teasing, with bouts of orgasm denial and perverted mind games… all to get the slave to the point that he's so highly charged sexually that his balls are pushed to their limits, and when he finally cums it feels like it's never going to end.
So with this in mind…
I'm looking for a very special kind of cock to play with by phone… one that's matched with a healthy pair of balls I can tease and torture to their maximum potential.
Size doesn't really matter, so even you small penis boys have a chance here.
I'm going to select at least one phone sex slave for some intense orgasm training… long term cock control bent on producing the largest volume of cum possible at time of orgasm.
We'll start with a single phone sex session so I can test your potential. Those proving themselves worthy will have the chance to proceed. I may select more than one boy for longer term training if I like what I find. We'll be in contact often, with a mix of tease and denial games and chastity play so I can get that cock up to the level of performance I desire.
Call me at the number below and I'll show you what your balls are really capable of.


Domina Cinara
Femdom Stories – Erotic Audio
Cock Control Phone Sex
1-877-274-8292

May is National Masturbation Month.
Yeah, like men really need an excuse to jerk off more ~laughs~.
I don't care if it's National Masturbation Month, National Chastity Month, or whatever.
If I say "stroke", you stroke… If I say "don't touch", you don't touch.
And if I say "no orgasm"… you suffer in denial as long as I want you to.
My cock control is absolute and undisputed… no matter the time of year.
Listed Under: Male Sex Slave, Tease and Denial
Tags: Cock Control, Orgasm Denial, Phone Sex, Slave Training
Comments (8)

By: Domina Cinara - May 14th, 2010

Many of my femdom stories revolve around forced femdom strapon sex.
It's only natural that one would be focused on something they truly enjoy.
I've never been all that big on diamonds or jewelry…
My perfect accessory is a nice strapon harness hung with a long, thick dildo.
And maybe a braided leather single tail whip… those are damn nice too.
Put them both together and I'm a very happy girl.
Femdom Strapon
(By: Domina Cinara) So I'm staying in tonight… I've been out almost constantly the last couple weeks and I need a break.
That doesn't mean I'm not in the mood to do something nasty…. I'm always up for perversion ~grinz~. I just think I'm going to stay home and enjoy myself by taking dominatrix phone sex calls all night… see what kind of dirty fetish shit you boys can entertain me with.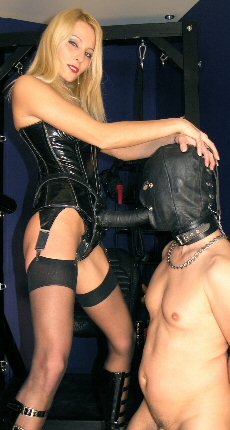 When I first sat down to write something here, I started thinking about what topic I wanted to discuss. I thought about small penis humiliation as I got the first few lines out, but then "strapon" popped in my head… and of course that led to me wanting to put one on.
You know what I mean… when you get that "urge"… that strong sexual urge when you think about some fetish or fantasy and this warm wave comes over you… and you really want to masturbate right then and there. Your heart rate goes up a bit and you feel flushed and aroused… yeah well, that's how I get when I think about strapon sex.
So now I'm back in front of the computer, sitting here typing this out, but now I'm wearing a long thick black strapon cock. I decided to put on one of those way-too-big ones… it's beyond huge… like 24 inches long and near 4 inches in diameter… soft and really heavy… the shaft perfectly smooth, topped with a molded penis head… and yeah, none but the most heavily trained extreme bend over boys could handle this huge thing.
It feels so good wearing this monster cock, and my clit is all worked up over it – nice and hot and tingly. When I slip into a strapon it makes my body feel all electric and excited… powerful and alive… but this lethal monstrosity takes it to another level. Like this intense feeling almost like blood lust comes over me ~laughs~… and I keep getting these wonderful chills through my body as I think about what kind of strapon sex I'd have with this thing – ruthless… brutal… extreme… savage… barbaric… or in other words, what I call uninhibited, flat-out fun… for me ~smiles sweet~.
My puppy slave gets both scared and excited when she sees this thing on me… it makes her pussy wet but it's too big for her to take – her eyes are bigger than her pussy or ass, and I don't want to blast her bottom out to the point needed for this thing. I sometimes put it on and let her kneel between my legs and masturbate while she plays with it… it's so cute how timid the filthy puppy slut gets around this monster cock…. I let her put it between her legs and slide along the shaft, imagining she's fucking it until she has an orgasm. I have another that's even bigger which is too clumsy to try to wear (and it's not fitted for strapon sex anyway)… sometimes I let her sleep with it, all curled up like it's her teddy ~smiles~
So now I'm in the mood to do some strapon phone sex calls… and I'm all ready and waiting to play. I'm sort of torn between wanting to do some anal training or forced strapon cocksucking.
I think I want to just sit here with my legs spread wide open while some naughty boy sucks my huge strapon cock. I'd have him crawl up to me as I sit on my leather couch and get his face working down there real nice… kneeling between my legs like a doggy boy. I know this one is far too big to be forced down a slave boy's throat, but I still want to watch as he tries to suck and fuck it with his mouth. I want to beat his face with it… smacking his lips swollen with this huge dong… whipping him back and forth with it as he begs for a taste… grabbing his hair as I try to force him down on it… fucking cocksucking whore that he is ~laughs~.
Too bad this one doesn't "cum"… I could have him lick and stroke it to orgasm and unload like a cup of "cum" all over his slut face. That would be real hot ~grinz~


Strapon Dominatrix Cinara
Femdom Stories – Erotic Audio
Strapon Phone Sex
1-877-274-8292

"Pegging" is another word for femdom strapon sex with a male slave…
I guess some bend over butt boy wanted a name for his fetish.
Doesn't matter to me what you call it… you're still getting ass fucked hard and deep.
Live Femdom Sex Shows – Fetish Fantasies and Humiliation with Hot Webcam Mistresses.
Watch her command you on webcam… and if you want, connect your own so she can see you too.
Dominatrix pictures and bios for every sexy girl – the hottest fetish clothing and sex toys.
Listed Under: Strapon Sex
Tags: Huge Dildo, Phone Sex, Puppy Slave, Strapon Dominatrix
Comments (4)

By: Domina Cinara - May 12th, 2010

As an exhibitionist, I obviously love going to BDSM parties…
Not just to show off what I look like and what I'm wearing…
But I also love to play and have sex in public.
Stages are a favorite of mine… with large crowds gathered for the show.

Fool At A Fetish Party – Part I – "Leave The Leash On Until Housebroken"
Femdom Stories
(By: Domina Cinara) So I went to this private fetish party last week (which continued in another form this past weekend but that's another story ~winks~). It was for a dominatrix friend's birthday and it was pretty crazy, just like I hoped it would be ~grinz~. I did a mess of different people and a wide variety of things to them… things full of dirty details I'm sure you'd all love to know about, but I just don't feel like writing a ten+ post epic describing them ~tries to pout sympathetically~.
There is one thing I did to a male chastity slave though… not really anything all that special but as it turns out, something that came back to me days later in a rather funny way (I suppose some would call what I did "cruel" but I often see the words "cruel" and "funny" as being somewhat synonymous).
First off, the fetish party was invite only – so it was all people who are serious about the femdom BDSM scene. The Mistresses were lifestyle types, some professionals but all "real" (and there was some very hot custom dominatrix clothing going on – yeah, I love looking at that fetish shit as much as you guys do). The slaves were a mix of male and female, brought by their owners either as personal pets or party favors to be passed around.
So like I was saying, I did a lot of different things – there was a wide variety of toys to play with and objects to use on their flesh. Just about everyone there was on the same page so the atmosphere was near perfect. You could literally move from group to group, room to room and never have your rhythm broken – which is what I love. Like a sadistic dance set to perfect time, smoothly leading the masochistic offerings without missing a beat. One of the very few failings was this annoying male chastity slave who is the star of the story.
I can't say he truly had an "owner" he was more a male slave in training, brought by one of the ladies for others to torture and be served by… and as you'll see, she hadn't done a very good job preparing him for public play.
He had a metal cock cage on that was closed tight but not locked, and over it a chastity belt that hung fully open – yes, it was odd and clumsy in appearance but whatever. The only comment made about him was that he was new to chastity training and had been held in orgasm denial for the prior week or so. The devices were left unlocked to enable others a fuller range of play, with the only stipulation being that his orgasm denial was not to be broken that night – obviously the woman who brought him felt that the experience of the femdom party mixed with all the tease and denial games he would suffer would beneficial to his male chastity training.
(Actually… I think she was just trying to impress others since he was very good looking. But it's never impressive to see a slave shown off in public before he's ready… nor does it reflect well on the dominatrix to do so. No matter how good looking, if not pleasing, he's just common trash. She should have kept him with her all night instead of dumping him into the wasp's nest like that.)
I didn't want to be bothered with a slave like that. As a dominatrix I'm under no fucking obligation to pick up every stray dog and "give it a home"… especially when the dog isn't really a stray, but simply off his leash too soon. Besides, with the quality of women and slaves present I was after things far heavier than cock teasing some newbie who looked as if his Mistress couldn't decide what to dress him in and so chose to broadcast her indecisiveness by slapping both cage and belt on.
Problem for him was… he couldn't stop following me around.
And he got a lil pushy when I wouldn't give him the attention he wanted.
(Don't get your panties all bent pussy boys – I like training beginners… but not when the slave is very new AND belongs to another. When starting a new sex slave, a dominatrix should tailor his training to her standards and deal with him exclusively herself. If you bring something that new into femdom social settings and dump him off on others without supervising, it's bound to cause problems – either confusion for him due to the different standards and expectations he'll come into contact with, or conflict when he pisses someone off in his cluelessness… especially when you've got an ultra serious crew in attendance like that which was at this fetish party.)


(There will be at least one more part to this story… depends how long I ramble when I tell the rest ~grinz~… when it's up this link will be active – ballbusting stories)


Strapon Domina Cinara
Femdom Stories – Erotic Audio
Male Chastity Training Phone Sex
1-877-274-8292

I can be devious and subtle in how I deal with those who displease me…
But I usually prefer swift, crushing punishment when angered…
Especially if give the opportunity to unleash my wrath in a public place…
Since the added humiliation of a crowd always heightens the punishment's effectiveness.
Listed Under: Male Chastity
Tags: Chastity Belt Punishment, Domina Cinara, Orgasm Denial, Slave Training
Comments (1)

By: Domina Cinara - May 3rd, 2010

Does the thought of being abused by a cruel humiliatrix make your little cock hard?
Begging to be seen by her so she can laugh at how small your penis is?
Laugh in your fucking face because you're such a pathetic joke of a man.
You men are all the same… simple minded gluttons for punishment.
But that's just fine with me… I like making little boys cry.
Humiliation Phone Sex
(By: Domina Cinara) I already know you have an embarrassing little secret you hide from your friends and family. No, I'm not talking about that pathetically small penis wiggling around between your legs… I'm talking about how much you love being abused by cruel, dominant women.
Yeah, I can tell… I can smell a cowardly little pussy boy like you a mile away. You're not the typical phone sex slave… no, you're a sick little male humiliation whore that gets off on being savagely abused by the superior female sex. You know you're nothing but a gutter trash slob, and your minds so fucked that you actually get off on it. What a fucking loser.
But I must admit, I agree with you totally… because however worthless a filthy male pig like you obviously is, at least you admit and embrace the truth of your miserable existence.
Shit stains like you deserve to be treated like garbage because that's what you are. It only makes sense that cruel femdom humiliation would make your small cock hard… and that a humiliatrix like me would enjoy dishing out your much deserved abuse. It's the natural order of things – disgusting worms crawl in the filth… where they get stepped on and crushed under foot by superior women in black leather thigh high boots.
I'm going to step on your face and grind the sole of my high heels down hard until you're buried in the mud and shit that is your proper home. Then I'm going to find out who your friends are, especially the girls, and show them what I've done to you so they can laugh too.
See, that's what I love about humiliation phone sex. I like to be mean. I was a mean girl back in school, and I'm and even meaner girl now that I'm in my twenties. I don't care about being polite or kind… I don't care about people's feelings… I only care about what I enjoy… and I do so very much enjoy laughing at useless little men like you while I show them just how pathetic they truly are.
So don't sit there like a fucking coward just dreaming about what humiliation phone sex with me would be like. Suck it up, you little faggot bitch… pick up the phone and call me now. You're just wasting time sitting there by yourself getting fatter when I could be having fun abusing you.
Take your two dirty little fingers off your puny cock and dial my humiliation phone sex number – 1-877-274-8292. I have so many nasty ass games I'm going to make you play for me… by the time I'm done, you'll fully understand what kind of loathsome, worthless shit you truly are… and why a beautiful dominatrix like me could never see you as anything more than something to laugh at.
It's time for the filthy male pig to be put in it's pen.


Humiliatrix Cinara
Femdom Stories – Erotic Audio
Small Penis Humiliation Phone Sex
1-877-274-8292

As an exhibitionist, public male humiliation is an obvious fetish of mine…
The options open to a ruthless humiliatrix are literally endless.
From vicious verbal abuse done in a crowed store or restaurant…
To shameful, perverse acts committed in full view of shocked onlookers.
There are so many ways to beat a pathetic male animal down ~laughs~
Humiliatrix – The Best In Male Humiliation Movies and Stories
A Place Where Mean Young Girls Will Be As Cruel As They Please
Free Sample Clips, Pictures, Stories and Femdom Audio
Hundreds of Humiliation Movies with Updates 3 Times A Week
Listed Under: Dominatrix Phone Sex, Small Penis Humiliation
Tags: Humiliatrix, Male Humiliation, Phone Sex, Small Cock
Comments (7)

By: Domina Cinara - April 30th, 2010

There are many different fetishes that seem too extreme at first glance.
But what matters isn't so much the fetish as how it is enjoyed.
There are ways to explore extreme femdom subjects like forced sexual impalement…
That are safe and sane, while still being very intense and exciting.
Forced Femdom Stories
(By: Strapon Domina Cinara) In the post I wrote yesterday, I spoke about sexual impalement, and how much the subject – both the historical form of extreme torture and execution, and the more limited sexual fetish – excites me. Today I thought I'd write a semi-fictional story describing such a scene in a dark forced femdom setting.
I'm probably going to record it as a long femdom audio too, so it's written in a style with that in mind.

Sexual Impalement Stories – "Forced To Have One Last Orgasm"

Imagine being dragged into a dark room by two tall women in dominatrix leather… your body naked but for the chains around your ankles and wrists. Other women can be seen standing silently in the shadows, some with male slaves kneeling at their feet… all eyes are on you.
At the center of the room is a large scaffold… with a chain hanging down from its crossbeam. A hooded dominatrix in a black leather bodysuit stands alone atop the scaffold… arms crossed… waiting for you to be brought to her.
As you're forced up the wooden steps… a woman you cannot see begins to read a list of "crimes"… they are the offenses for which you are to be executed by anal impalement.
You try to struggle, but are easily overpowered by those you now recognize as your dominatrix executioners… your naked body no match for the Amazon muscles that writhe beneath the tight leather these powerful women wear. Your cries for mercy echo the walls of the room with no response… the audience has no sympathy for you. Your arms are forced above your head by strong dominatrix hands… the chain at your wrists is attached to the one now hanging above you from the crossbeam. You hear a winch start to crank… and the chain your wrists hang from slowly starts to rise.
The others leave you… only the hooded dominatrix remains… standing by the machine that slowly pulls your arms straight up over your head, lifting you onto your toes. The winch soon stops and silence descends over the room… the muscles of your arms ache as your body's weight pulls against them.
Moments later a loud crash makes your heart jump in fear, and suddenly the floor drops away beneath you, leaving you dangling by your wrists. Panic makes your legs kick franticly, searching for something solid to stand on, but the chain that is around your ankles makes it impossible for you to spread your legs far. You look down and see a tall wooden pole directly beneath you… it's tip tapered to a rounded point, and coated with some kind of gel. The memory of those words… "anal impalement"… spoken in that cold female voice just moments ago… fills your mind with terror.
And then you hear the winch start again… but this time, the chain is slowly being lowered… and you with it… descending down towards the tall, thick shaft that awaits your asshole. One of the dominatrix executioners appears below you… ready to guide the impalement pole inside… the clicking of the chain marking its steady approach. You struggle to no avail… and your cries have no impact on the stolid onlookers.
Your fear reaches new heights as you feel the tip brush against your bare bottom… the hands of the dominatrix take hold of your hips as she lines you up with the shaft. The chain clicks a few more times… dropping you down by inches… and then it's there. The tip of the impalement pole touches your asshole and the intense fear that floods your body in response, makes your heart feels like its going to explode… your butt clenches tight, keeping the shaft out for a moment… your body rests briefly atop the pole, the pain and pressure between your legs building quickly… you feel the tension in your arms relax for a second… more and more of your body's weight comes to rest on the thick shaft that's trying to force its way inside of you… and then suddenly your ass gives… and the thick shaft rushes in… you scream in pain as it fills you.
Writhing in agony atop the ever thickening shaft, you dance uncontrollably. The chain clicks 5 more times… 5 more inches are forced inside of you as your body slides farther down the impalement pole… and then it stops with a sudden jerk.
You have no idea how much of the shaft you've taken, but you can feel it getting a lot thicker with every inch more… your ass is on fire and even though it hurts to move, your legs twist and turn in a series of spams brought on by the pain… the instinctual need to escape driving your limbs into desperation. Your hands grab hold of the chain, arms struggling in a vain attempt to pull you off the pole… but it's in too deep for you to get off… and the reward of your efforts is only more suffering as you slide back down the shaft.
The hooded dominatrix stands above you, her hand on the lever of the winch. Your body has stopped descending, but the expectation of this anonymous woman in black leather turning the machine back on fills you full of dread.
Then you feel a hand take hold of your cock… your body jumps reflexively at the unexpected touch and a new flood of pain courses inside of you. You look down to see a young female slave in a heavy leather collar standing there, her face very close to your penis. She starts stroking your swollen dick slowly with one hand… to your shame you realize that you were fully erect before she even touched it. Your penis seems to have a mind of it's own… no matter the fear and pain you've felt, your cock has gotten extremely aroused.
And then she takes it into her mouth… her tongue caressing the shaft as the entire length of your penis disappears behind her full lips.
A strong female voice speaks – "That slave whore is going to give you the best cocksucking you've ever had… as long as you don't cum, the pole won't go any deeper inside of you… but the instant you orgasm, the chain will be released and you'll be dropped down fully on the shaft."
The slave girl removes your cock from her mouth and looks up at you with a smile on her face… an evil look in her eyes that tells you she is not on your side… she wants your cum in her mouth… but she wants to see you dance on that pole even more… she wants to touch her wet pussy as she watches you slide down it's thick shaft… masturbating while the full length is forced ever deeper inside of you… the cries of her orgasms blending with those of your final screams.
With that smile still on her face… she wraps her lips around your cock and slides the full length of your penis along her tongue, nearly to the back of her throat. She begins moving her head back and forth… fucking you with her warm, wet mouth… at first you think she's humming as she blows you… but then you realize she's laughing… she knows the outcome is inevitable… and she can't wait to see it.


This link – Sexual Impalement Stories – leads to the femdom audio version of this story.


Strapon Domina Cinara
Femdom Stories – Erotic Audio
Forced Femdom Phone Sex
1-877-274-8292

Like I said, I think sexual impalement, especially anal impalement, is very hot.
I don't have a death fetish really… I just love seeing fear and feeling absolute power.
I'm a sexual sadist… it's who I am and what I get off on.
And darker, forced femdom themes feed my addictions best of all.

Strapon Tryouts – Extreme Anal Impalement On The Largest Rubber Cocks You've Seen.
Cruel Dominatrix Beauties Ruthlessly Fisting and Fucking Their Helpless Male Slaves.
Free Sample Movies and Pictures – All Original Content
Listed Under: Forced Femdom
Tags: Dominatrix, Femdom Stories, Sexual Impalement
Comments (19)

By: Domina Cinara - April 29th, 2010

Don't be such a bunch of scared little pussy boys.
I don't spend all of my time beating male slaves into broken lumps of quivering flesh.
I enjoy my pets in a wide variety of ways… from soft fetish to extreme torture.
And they each worship and serve me the best they can, as fitting the Goddess I am.
Anal Impalement
(By: Strapon Domina Cinara) I started talking about this in an earlier post – Femdom Stories – Anal Impalement – and said I would get into greater detail in the future… well, here ya go.
My sexual fantasies span quite a number of extreme fetish subjects. One of those is impalement… specifically through forced anal insertion.
There's just something so hot about slowly impaling a helpless slave on a long, thick rod… their hands locked in chains, arms stretched out above them… legs left free for them to kick and struggle – dancing on the stake… naked body very slowly lowered, allowing their own body weight to drive the pole in.

~grinz wicked evil~ The thought of stuff like that gets me wet so easily.
I know most people think it sounds sick to be into something like that ~laughs~… but as I said, there's all kinds of heavy shit I get off on. I love to masturbate to nasty fetish pictures and extreme femdom stories about impalement, hanging, racking, etc… sometimes I plant my puppy slave's face between my legs while I sit there happily lost in these torture fantasies.
I think what I like really isn't so much the "death" aspect… but the extreme fear. I devour fear and it turns me on in exactly the way you'd expect it would a sadistic dominatrix. The idea of sexual impalement – the victim led to the stake… the look in their eyes when they first see the pole… the pleas for mercy that rush from their lips… eyes going frantic as they're bent over, or lowered onto the stake… the cries when it first goes in… the frenzied struggles and pathetic screams as it's forced deeper and deeper inside… mmhhmmmmmm ~grinz and laughs~. I keep writing like that and I'll be typing with one hand.
I've obviously never been involved with a true impalement in real life – by that I mean the historical form of brutal torture and execution. But I have done "safe" versions of the fully developed fetish form, where the act is staged in a very controlled setting. Consider it a type of extreme sexual role-play where the impalement and events surrounding it are recreated in an intensely erotic way.
There are all kinds of examples I could give… things I've done myself or with groups of others, to live BDSM shows I've watched, etc… lots of good femdom stories to be told ~grinz~. Sometimes these scenes can have a very heavy theatrical element – like a whole party centered around the sexual impalement (or hanging, etc.) of a slave, with everyone taking a part in the drama as it unfolds (yeah, lots of twisted underground BDSM parties go on in the city where things get really wild… someday I'll tell you about the crucifixion I watched). Literally a fully developed extreme fantasy.
There are many ways to sexually enjoy extreme torture without causing extreme damage… it's all about creating an atmosphere that feeds the fetish and fantasy… pushing limits to create an intense scene without crossing the line.
That's not to say this cannot be dangerous… depending on how the impalement is staged and how intense you want things to get, it can be very risky. Those setting things up have to really know what they are doing – this isn't a fetish for the clueless to mess around with… both in terms of those staging the event, and those being the focus of it.
But there are other ways to enjoy this fetish in far simpler ways, that while not developing the concept as fully, still touch on it nicely. Consider something like a spreader bar set between the ankles, with a pole running up between the legs. A good sized dildo attached to the top of the pole and inserted into the anus or pussy, with the base of the pole locked to the spreader bar… the end result being an upside down "T" with the point deep inside of the slave (you can even make it adjustable so you can slide the pole up by inches or half inches once it's in place). Leave the slave standing with his hands in some sort of bondage (arms above head is most common, but tied behind the back can be very interesting due to balance issues), and there are all kinds of things you can do then… a leather whip comes to my mind right away… some seriously brutal CBT can be very evil in this position… or if the slave is female and you put the "impalement pole" into her pussy, you can fuck her ass with a strapon, stuffing her fully. (Trust me, that's a lesbian domination scene I've enjoyed often… I will tell some stories about that soon.)
Fucking machines can also be incorporated into sexual impalement very easily. The impersonal, unforgiving nature of a machine adds greatly to the sense of helplessness and fear, especially when coupled with bondage and a gag (or a hood). It's not a dominatrix driving the dildo in and out of your ass, it's this cold mechanical thing that has no sense of the frailty of a human being… and you're trapped as it violates you repeatedly.
I've seen slaves cum incredibly hard from such penetration. The prostate stimulation obviously contributing to the intensity of the orgasm, along with the immersion in an extreme fetish setting that overwhelms their senses. Not just their cocks gushing cum, but also anal orgasms so powerful that they've been left almost completely spent, sagging helplessly upon the dildo/pole that's inside of them.
And obviously, my interest in sexual impalement fits right in with my love of strapon sex and anal fisting ~grinz~. In this case, the pole they are to be impaled upon is a part of me… with their suffering body trapped on the end of my huge cock. Slip me into a tight harness with a long, thick dildo hanging down heavy between my legs and I feel like I'm armed for battle ~laughs~… ready to ass fuck any man into total submission.


(Keep getting phone sex calls so I'm going to cut this off here for now.)
I'll write more on this soon…
Update – here's something else I've since written on this fetish – Sexual Impalement Stories


Strapon Domina Cinara
Femdom Stories – Erotic Audio
Femdom Strapon Phone Sex
1-877-274-8292

When I die I know I am going to hell.
An eternity of inflicting sexual torture on helpless souls is the reward I expect.
I'll be an arch-demoness with no limits what-so-ever ~grinz evil~
But for now… my mortal form loves the full range of femdom sex and BDSM.
And I'm still burdened with a heart and some degree of conscience…
So you're somewhat safe, just so long as you remember…
It's always Dominatrix Cinara who's the one in control of whatever we do.
Listed Under: Strapon Sex
Tags: Anal Sex, Bondage Sex, Dominatrix, Huge Dildo, Sexual Impalement
Comments (6)