Femdom Stories – Part III – Now Get Up And Follow Me
By: Domina Cinara - January 23rd, 2010

Seeing an asshole stretched painfully tight around a huge dildo…
Makes my blood pump hard and breathing turn heavy.
Some women enjoy strapon sex for the forced femdom aspect of it.
For me, that's part… but I also just love fucking people in the ass.

Violated in The Park – Part III – "Now Get Up And Follow Me"
Femdom Strapon Stories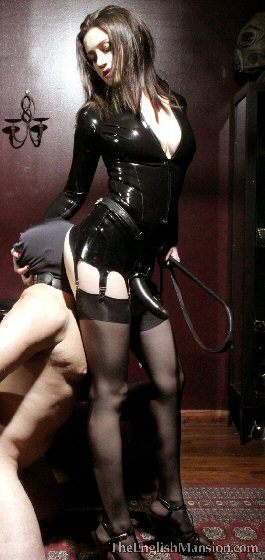 (By: Domina Cinara) My dismissal of Mr. Small Cock was followed by the rejection of a series of others from his penis deficient sub-species. I'm not at all a patient woman, especially when strapon sex is involved… but when I want something, I will not settle for third-class trash. I consoled myself with the thought of how my huge dildo would take every second of the time wasted here out on the ass of whatever man I finally selected.
Thankfully, it wasn't too long before another hopeful with actual promise presented himself. Without a word of response to his opening line – I don't even remember what it is that he babbled – I motioned him to sit. I reached down, and with the back of my hand smacked his knee, causing his legs to spread in reflex. He might have said something then too, but I don't know what. The comments of such as he are irrelevant and I wouldn't repeat them here anyway, even if I had listened enough to hear them in the first place.
My inspection of his manhood led to much better results this time… no small cock here. Smiling, I moved my other hand down there too, letting both of those long leather gloves explore what I had found. Between cock and balls there was more than enough for my hands to play with. Leaving them there, I finally took a look at his face – I hadn't bothered up until that point. The shocked, excited expression he had on was kinda funny… it's so easy to put a man off guard.
Then I spoke my first words to him, "Good enough, lets go."
"What?" he replied, stammering slightly.
To which I responded, "Are you some sort of fucking idiot? I am going to fuck you. Now get up and follow me." And without another word, I stood up and began walking towards the exit, not bothering to look back at the male dog that would so obviously be quick to follow.
As I left the club I purposely smiled teasingly at everyone who longingly watched me leave… my eyes looking them over as if I was so very interested in what I was seeing… my tongue slowly licking my lips as I appeared to show more than passing interest in some. By the time my thigh high boots and tight body had pulled dozens of eyes to the door with me, I could barely contain my laughter. I always leave a good tip when I exit a club… in the form of a nice, quick dose of tease and denial. I wondered how many would go home to screw some bloated, left-over last-call trash while they dreamed it was me they were with. By the looks I got as I departed, it would be quite a few ~laughs~ Fuck them.
My driver was waiting outside. He knew what was expected of him… the level of attentiveness I demanded… and so he made sure to have the car door opened wide by the time I got there so I didn't have to break my stride. I slide into the car, letting one of my thigh high boots linger behind me as a final glimpse of the Goddess departing.
Sure enough… the male I had selected for tonight's entertainment wasn't far behind. His eyes almost as big in his head as the shit eating grin he had on his face. He was eating up the attention I was getting, and the knowledge that everyone saw it was he who was leaving with me.
I wanted that haughty look to be on his face. The more he smiled now, the better the expression of shock and fear would be later… when he realized the type of anal sex I had in mind involved a huge strapon forced all the way up his virgin ass.
I smiled as I thought of how his eyes had undoubtedly followed my tight ass all the way here… to his doom. His mind never giving a second thought to what might really be occurring.
How stupid men are. When it comes to sex, they think themselves the hunter. So convinced of this they are that they make themselves such very easy prey.
I patted my leather handbag gently… my smile grew as I felt the huge dildo and strapon harness contained within… soon, my friend… very soon.
(You will find Part IV here – Femdom Stories – when this link is up)


Strapon Domina Cinara
Femdom Stories – Erotic Audio
Dominatrix Phone Sex
1-877-274-8292

I love both kinds of anal sex…
Me screwing the tight assholes of male sex slaves…
And me screwing the tight assholes of female sex slaves.
But as future extreme femdom stories of mine will show…
There's a lot more I like to do to men and women than just anal sex.

Listed Under: Strapon Sex
Tags: Anal Sex, Dominatrix, Femdom Stories, Huge Dildo, Long Leather Gloves, Small Cock, Strapon Dominatrix, Thigh High Boots
Comments (0)
Speak to the Dominatrix -