Cock and Ball Torture – CBT and Ballbusting
By: Domina Cinara - February 8th, 2010

I do a lot of cock and ball torture phone sex…
Funny how guys love reading the most extreme cbt stories…
But when it comes down to doing it while we're on the phone, they freeze up.
Be glad I'm not really there with you… because you'd have no say at all…
And then you'd see how brutal a dominatrix I can really be ~grinz evil~
Cock and Ball Torture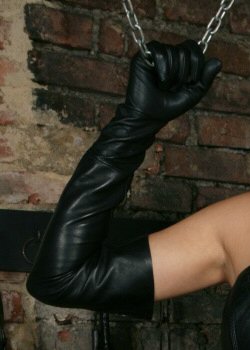 (By: Strapon Domina Cinara) There are so many lovely phrases in the English language, for example… cock and ball torture… mmhhhmmm… say it slow and it sounds like Christmas ~laughs~. Wonderful presents wrapped up in a tight little package, ready to be torn apart by a happy young dominatrix, reveling in the brutal joy of unrestrained sadism… aaahhhhh ~smiles~
I had this guy ask me what the difference is between femdom CBT and ballbusting. I think the names make it somewhat clear, but since this is a subject I love, and a favorite "hobby" of mine, I thought I'd write a little about it.
First off, cock and ball torture comes in many different forms, as does it's close relative, ballbusting. It can range from mild methods like teasing and tickling with long fingernails to the point the slave can't take it anymore… to the most brutal and extreme kicking and punching you can imagine. The point is not just the infliction of pain through torture, but to prey on the vulnerability of the male genitalia… more specifically… the female preying on that vulnerability, creating an intense atmosphere of mixed fear and helplessness.
Technically, one could say that ballbusting falls under the general umbrella of cock and ball torture, because the point is much the same – the first being a "type" of the second. But I break them into two categories since the former is more specific in form and target than CBT, and in fetish circles this distinction is noted. To give a very short explanation of the difference…
Femdom CBT – being more refined forms of cock and ball torture ranging from soft erotic teasing to the direct infliction of extreme pain, and usually involving cruel, hands on treatment with a wide variety of devices employed (I like to slip into a pair of long leather gloves when the sadism gets serious).
Femdom Ballbusting – being the more brutal, savage assault on the male genitalia, (the specific focus being on the balls, hence the name… often the cock isn't a target at all, but merely "collateral damage" ~laughs~) usually involving groin kicking, hard punching and slapping, and possibly direct hitting with sticks, heels, leather riding crops, canes, etc. (When I put on a pair of thigh high boots the male groin becomes a magnet to my legs and feet ~laughs~).
Both enable the dominatrix to provoke a wonderfully rich variety of screams, sobs, and pleas for mercy from her victim.
Bondage is an often used possibility, especially in more extreme ballbusting sessions where the male slave is bound with his legs spread far apart for easier access. But in all cases, the more helpless the slave is made to feel, the greater the psychological effect on him. Bondage can greatly amplify this.
Is it dangerous? Yes… which is part of what builds that intense atmosphere. You're fucking with a very sensitive part of the body… if you don't know what you are doing, or you are flat out stupid, you can really hurt yourself. Thus – listen to your friggin dominatrix when she tells you what to watch for and avoid. Extreme ballbusting can easily damage a man, as can brutal CBT styles… but often the most risky techniques are those that limit or restrict blood circulation since the pain – which is the body's warning signal – can greatly decrease if numbness sets in. And while numbness might not hurt a lot, the related consequences can cause permanent damage. I've heard some truly nightmarish femdom stories of cock and ball torture gone very bad. While extreme CBT stories may really turn you on… the line between fantasy and reality exists for a very good reason. Talk about and understand what you are doing, before jumping blindly in.
I'll be writing a lot more about this subject in the future… this is enough for right now ~smiles~


(UPDATE – Here's an example of a somewhat nasty cock and ball torture session I had describing some of the techniques used in detail – brutal cbt)


Domina Cinara
Femdom Stories – Erotic Audio
Cock and Ball Torture Phone Sex
1-877-274-8292

CBT takes advantage of a very vulnerable part of the male body.
Exploiting it's weakness to put the dominatrix in a very powerful position.
But I often like to push this even more… first through the use of bondage…
And then through the violation of another very vulnerable spot on a man -
His tight little asshole… forced open by my big, thick strapon.
That way I can reach around and twist and pull his cock and balls
While drilling my own big rubber dick deep down inside of his ass!
Extreme CBT Stories – Brutal Ballbusting Movies and Cock Torture Pictures
Dom Ballbusting – Where Women Rule and Men Are Made To Suffer For Pleasure

Listed Under: Ballbusting Stories, Cock and Ball Torture
Tags: Ballbusting, Brutal CBT, Dominatrix, Femdom Erotica
Comments (6)
Speak to the Dominatrix -