My Slut Loves A Strapon Forced Deep In Her Ass
By: Domina Cinara - February 23rd, 2010

Is there really such a thing as an anal orgasm?
You're damn right there is… both male and female forms.
Though they're different since the male anal orgasm is driven by the prostate.
But yet… trust me… they exist and I've forced them from many an asshole.
Some slaves even say they're a more intense, extreme form of climax.

Puppy Slave Valentine – Part VI – "Puppy Loves A Strapon Forced Deep"
Femdom Stories
(By: Strapon Domina Cinara) There were no complaints from my puppy slut when the strapon forced its way into her ass… excepting that she wanted more of it and faster. I wish I could have seen her face… when a cock enters her behind she has this sexy way of closing her eyes as her mouth opens in a long silent moan. It's just so fucking hot seeing her like that, especially when her body starts to jerk with each pounding thrust. I love having my pussy eaten while she's having anal sex with a stud slave… her expressions are just so fantastic.
The first ring of the strapon went in easily, and her asshole happily swallowed the second just as fast. If you've never seen a tight ass stretched around a huge cock you don't know what you're missing. Best thing about a ringed dildo is you get to see the asshole stretch and swallow over and over again… and pulling out looks just as good.
I couldn't resist touching that huge clit of hers again, so I leaned out across her back and reached down with my left hand to play with it as I forced the third ring into her butt. A spasm went through her body and I smiled, knowing she was so close to orgasm. Her breathing immediately became erratic… my puppy panting as I played with her swollen clit while the strapon forced itself deeper into her amazing ass. With each ring, her body bucked against mine… her legs now shaking and her arms spread wide on the bed to better brace herself. The anal slut was going to cum so soon and my pussy wanted to feel it so bad.
I teased her with the fourth ring… almost pushing it in, then pulling back to almost pull the third ring back out. She made little puppy whimpers, begging her strapon domina to feed her ass more… but I just kept teasing her like that for a few minutes, while my fingers enjoyed her huge clit, savoring the swollen feel of it and the heat pouring from her pussy. She was having trouble keeping still, between the strapon in her ass and my fingers massaging her clit, muscles all over her body were trembling and her legs shaking. When I finally pushed the fourth ring inside, her head snapped up and this so-fucking-hot gasping moan erupted from her mouth. I almost came right then.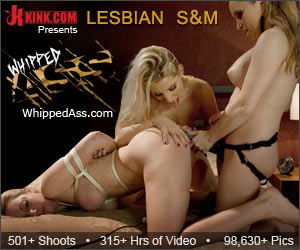 With almost all of the cock inside of her, I lifted myself up on my toes, legs held straight with arms extended so my body was poised above her ass with only the huge dildo connecting the two of us together… then I let my legs drop so all of my body weight fell down on her… the rest of the strapon forced into her in one nasty push. She cried out at this and almost collapsed… hands clawing at the bed… and a second later the first anal orgasm ripped through her. I just held there, all the way inside of her… the extreme convulsions of her body running through the strapon and up the interior dildo that was inside of my pussy. It was like having the most amazing, living vibrator inside of you, and I sank down against her enjoying every moment of it.
The anal orgasm she had was so strong, that combined with the way I had forced the rest of the strapon into her, she ended up collapsing on the bed, unable to hold herself up any longer. Trapped between my body and the mattress, with a foot of dildo in her ass, my puppy slave was completely helpless… exactly the way I love having her.
For me, there's nothing like grinding deep down inside of a slave's ass… the feel of the pressure against my clit is probably my favorite way to cum… and since this strapon had an interior dildo that was deep inside of my soaking wet pussy, riding this slut's asshole was absolutely amazing. I kept pushing and turning as if there was more that could fit in her… loving the way it felt against my clit, and loving the way the dildo inside of me was shifting around even more. Within a minute of my puppy slut's anal orgasm, my pussy erupted in one of it's own. I sank into her, my body draping hers as I savored every second of it… she moaned with pleasure of her own, knowing that her ass had made her domina cum.
But one anal orgasm is never enough for my puppy slut. When I'm not teasing her in orgasm denial, I like to see her cum… but of course, I only allow as many as I choose. Since it was Valentine's Day, and she had given such a wonderful facesitting performance earlier… I decided to be generous.
The beauty of the anal orgasm for the strapon dominatrix, is that after the slave has one, the ass opens up very nicely, and it becomes perfect for hard pounding anal sex. The dildo doesn't have to be forced in anymore… it glides much easily, especially with lube.
My puppy slave's ass is extremely well trained, so even though it had six rings to deal with, once that anal orgasm had loosened her up completely, I was able to fuck her asshole as hard and fast as a well used wet pussy.
Keeping her flat on her belly, I pushed myself up with my arms, and rode her ass so deep, never letting more than three of those fat rings leave her butt. Each thrust I pounded home all the way, going what would have been balls deep if I had any ~grinz~. I wanted her hear her cum again and I didn't have to wait long. Once she gets started, my puppy slut is like a cum machine. Another anal orgasm saw her digging with her teeth into the blankets, while the one after that made her cry out with these deep howl-like sounds that had me wondering if the neighbors would complain about my "dog". I grabbed her by the back of the head and buried her face in the blankets, "shushing" her as I fought to keep the rhythm I had going… I was about to cum myself, and messing up the pace like that would just make it take longer. No big deal… by the time the pressure rose enough to burst inside of me, my puppy slut started having another anal orgasm, which made us both cum harder.
I don't know how long we went on like that… it wasn't any bogus "hours and hours" like most femdom stories claim… assholes don't really work like that and we had already been going at it in one form of lesbian domination or another much of the day. We were both more than satisfied by the time I slid the huge dildo out of her ass to roll over on my back beside her.
I was half asleep when she began cleaning the strapon with her mouth and tongue… licking it thoroughly before undoing the straps and carefully removing it from my body. Then she picked the dildo up in her mouth like a bone and trotted off on all fours to put it back where it belongs. I fell asleep before she came back, but when I woke in the morning she was curled up at my feet like a good little puppy slave.


And with that, this lesbian strapon story is complete ~grinz~… The End.


You can find the first chapter of this story here – Puppy Slave Valentine. And visit my Femdom Erotica collection linked on the upper left of this page to find other femdom stories I've written along with dominatrix pictures of me and free erotic audio clips I've recorded.


Domina Cinara
Femdom Stories – Erotic Audio
Forced Strapon Phone Sex
1-877-274-8292

Bondage is a very important part of forced strapon sex.
That's not to say it's a necessity… a well trained or well beaten slave will obey.
But when the act is shall we say, not-so-voluntary… well…
Introducing your unsuspecting "partner" to bondage is a wonderful first step.
Before showing them how it feels to have a strapon forced up their ass.
Lesbian Domination Stories – Hot Dominatrix Pictures and Movies
Free Video Samples and Pic Galleries
Extreme Anal Sex – Strapons, Dildos and Leather Glove Fisting

Listed Under: Anal Orgasm, Strapon Sex
Tags: Anal Sex, Femdom Erotica, Femdom Stories, Huge Dildo, Lesbian Domination, Puppy Slave, Strapon Dominatrix
Comments (1)
Speak to the Dominatrix -