Femdom Stories – VII – My Panty Gag Silenced Him
By: Domina Cinara - March 2nd, 2010

Sometimes I just get this near uncontrollable urge to be deep in a man's ass…
To spread him wide and shove a huge dildo or latex gloved fist in as far as I can.
I don't care if you admit you masturbate to femdom strapon sex or not.
If I had you bound and bent over… you'd be scared but you'd want it too.

Violated in The Park – Part VII – "My Panty Gag Silenced His Screams"
Femdom Stories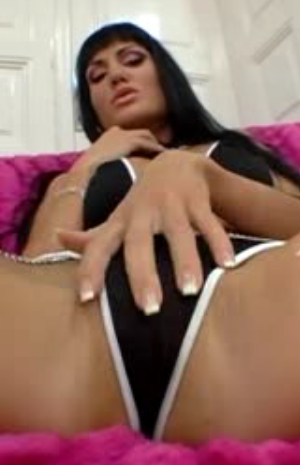 (By: Strapon Domina Cinara) I had him exactly the way I wanted him… handcuffed to the fence and gagged with my panties… helpless and forced to accept whatever I wanted to do to his body.
I stood silently behind him, pausing a moment to look around and see if perhaps someone was watching. I hadn't seen anyone as we entered the park and nothing had since changed. Shadows from the building and surrounding trees hid us well enough, and our short fight hadn't produced enough noise to draw any attention.
That's one of the good things about femdom ballbusting… unlike other types of pain, the nature of this particular sexual assault tends to not produce a lot of noise. When hit hard enough, the effect is so extreme that it actually stifles any vocal response.
I really wouldn't have minded someone watching, so long as they'd keep their fucking mouths shut. I'm a shameless exhibitionist and an extreme pervert, and audiences only serve to provoke me even more. It's part of why I write this diary and the femdom stories within it… I like to tease and arouse, but I also like to shock and even horrify… the thought of unseen watchers in the park only excited me more.
Smiling, I took the huge dildo from my leather handbag, and slipped into the harness.
I took my time… he wasn't going anywhere and I like to tease myself a little at times like this by letting the anticipation build even more… kinda like the calm before the storm ~grinz~. Besides, he needed to recover a bit before having this strapon forced up his ass ~laughs~.
I know you can imagine how hot I look in thigh high boots, long leather gloves, and a sexy, skin tight dress… with a long, thick strapon hanging between my legs. Trust me, the reality would give you a heart attack, especially if I had you trapped helplessly in bondage like I did this fool… and you saw the aroused, sadistic look I had in my eyes that night.
Forget whatever you think you know about what a strapon dominatrix is like. That porno shit you watch while you're sitting at the computer is nothing but some actress playing a part. A real life strapon domina, a cruel female sadist who is truly into extreme femdom BDSM, is an entirely different world. Real forced female domination isn't some kind of cute game played out by the hour… not in a situation like the one in this extreme story. It's a man learning what it feels like to be weak and inferior… used and discarded by something better than him.
I was going to use him like a cheap anal sex slut. Before, he had stood watching me, wanting to masturbate while I showed him my ass and panties. Now it was me standing behind him, slowly stroking my strapon cock while looking at his ass. The shock of those painful ballbusting punches to the groin had worn off a bit by now. He was starting to struggle again, the fence rattling as he pulled against the handcuffs… while a flood of foul phrased protests were muffled by the panty gag I had forced into his mouth. The nasty grin on my face grew wider as I thought about how he would really have something to yell about in a few moments.
He still had his pants on though, so I walked back to him to take them off. The sound of my thigh high boots crossing the distance to him warned of my approach, and as I stepped behind him one of his legs kicked back to try to hit me.
No… oh, no… none of that shit with me.
I kicked him hard in the back of the offending leg… the tip of my thigh high boot connecting with the soft spot behind the knee. His leg gave out and he grunted in pain, as loud as he could with my panties in his mouth. I grabbed him by his hair, pulling his head back painfully, and told him to go ahead and keep trying to kick me, it would just make me enjoy hurting him all the more. Then I rolled the fingers of my right hand into a ball and punched him in his side… the feel of the skintight long leather gloves connecting with his exposed ribs was just so satisfying… as was the sound of him now choking on my panties as a result. Still holding his head pulled back I asked him in a sweet voice if he liked the taste of my wet pussy now… ~laughs~ and if he wanted me to shove my panties all the way down his throat when I was done.
Reaching around in front of him, I undid his belt a pulled his pants off, forcing them down around his ankles. Then I squatted down and pulled the belt tight again, closing it to restrict the movement of his legs some. The strapon I had on was so big that I'm sure he felt that huge dildo against his bare flesh as I stripped him.
He had a pale baby ass ~laughs~… big tough guy with a soft bare bottom. When I saw that pale white baby butt I just couldn't help myself. His little pink asshole was like a perfect target painted on sheet of paper. Laughing to myself, I stepped back a bit and then I kicked him directly in his asshole… the tip of my thigh high boot connecting perfectly with his tight hole… I think it even popped in a little bit. Holy shit did that unexpected shot hurt. He jumped up the fence, his hands curling into claws as he screamed. The panty gag again stifled his sounds, but they did nothing to stop the park from being filled with my cruel laughter.
(Part VIII will continue this extreme bondage story… when I've posted it I will activate this link – Femdom Stories )


Strapon Domina Cinara
Femdom Stories – Erotic Audio
Femdom Strapon Phone Sex
1-877-274-8292

Even before I got involved with professional BDSM, I loved forced femdom sex.
Stories of my earliest sexual encounters would mark me an obvious predator.
I can't even describe how it felt the first time I put on a strapon…
I was so excited, I nearly split the young girl I was with in two ~laughs~
Lesbian strapon sex with a cute classmate was my first time wearing a dildo…
But it wasn't long before my hard cock found it's way into a young man's ass.

Listed Under: Forced Femdom, Strapon Sex
Tags: Ballbusting, Femdom Stories, Huge Dildo, Long Leather Gloves, Panties, Strapon Dominatrix, Thigh High Boots
Comments (5)
Speak to the Dominatrix -