I Broke My Hand This Weekend… and He Deserved It
By: Domina Cinara - March 16th, 2010

The male requires violence and brute strength to create the illusion of domination.
Female superiority is dependent upon none of these things… it just is.
But I must admit, a physical violence can be a pleasing option for a dominatrix.
Not to prove the established reality of female domination… but strictly for the fun of it.
And sometimes, the humiliation of a beating is good for an especially stupid male.
Female Domination
(By: Strapon Domina Cinara) I guess one could say this is a femdom story of sorts… no sex in it, just me teaching some idiot his place with a lesson in female domination, NYC style.


So I hurt my right hand over the weekend. I didn't think much of it at first, figured that it would be better in a few days… but it only got worse.
Decided to go to the doctor today… and long story short… my right hand is broken. Nothing extreme, just the knuckle of my index finger in two places, plus a nasty bruise.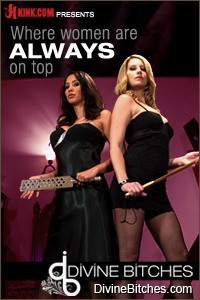 Gee… and how did I do that? Well, here's the lovely story…
So I'm at the store doing a little shopping… my driver's waiting at the car, and my puppy slave I left home. I finish up pretty quick and go to checkout.
Just as I get on line, this small cock piece of shit comes up behind me (guy's like 5'6" maybe… short round sack of piss). He immediately starts bitching at me and I have no idea what the hell his problem is because I can't understand like 90% of what he's saying.
So I give him this disgusted, ~what the hell is your problem, you fucking gutter troll~ look… almost having to bend over to do it cause I've got 4" stiletto heels on and I'm towering over his pear-like, half-sized body.
At that, he starts waving his finger up in my face, sounding like he's "commanding the female to do something."
My eyes go wide and I tell him to step the fuck back and shut the hell up.
He grunts out this semi-intelligible mess that's in desperate need of subtitles and an education over the 3rd grade… worthless babble issued from a worthless pig-ape… but the words "No!" and "You woman, you do as told" stick out clear enough… and he pokes me in the chest with his finger.
Oh… no… you… didn't.
I don't give a fuck what ass backwards misogynistic piss hole this guy is from… no one is throwing that archaic chest thumping macho male bullshit at me. It's not a matter of proving female domination, superiority or any of that stuff… garbage like this idiot is something no female should have to tolerate in the modern world, especially here.
Something snaps in me. Literally a split second after he utters those words my fist connects with his mouth.
No friggin joke. My fist whipped out without me even thinking about it.
I punch him right in his teeth and the shot's so dead on hard and unexpected that he falls backwards, bangs into his cart and lands on the floor.
Then I explode. I start yelling some sort of shit at him like, "don't you fucking talk to me like that you piece of shit… how dare you touch me… I'll kick your teeth down your throat…" blah blah blah, with liberal use of expletives. Anyone who's from NYC knows how we talk around here, so fill in appropriately cause it was just a mad flood of foul escaping my lips.
Like instantly, other people are there… staff… customers… all that. Of course they're backing me up because any civilized human being knows you don't treat a female that way, and enough saw not only how he was talking to me but that he touched me.
Now, I've got so much adrenalin in me – ah, what a wonderful drug that is – that my hands not hurting a single bit. I had some blood on one knuckle but that's all. I figure that I cut it on his teeth, because that's what my knuckles connected with.
His mouth is all bloody… no idea how much damage I did, but I'm sure I busted his lip bad at the very least… along with demolishing that machismo bullshit he needed to be cured of.
The management is all apologies… they get me out of the store quick, no charge, and all that. My driver is all livid wanting to go inside, and I'm like get in the car and just f'n drive… my "honor" is more than defended ~laughs~.
I get home and my hand starts to hurt. I figure I messed the tendon up by the way it looked but that's it. Next day it hurts more, and doesn't at all look right. Still I swallow it, but the day after it's worse.
Head to the doctor's and like I said… I broke the knuckle in a couple places on that friggin troglodyte's never-been-brushed filthy yellow stained fangs.
End of story.
And yes I'm pissed because it's shit to type or do anything… and yes I have slaves to do stuff but it's still annoying… and yes… oh, f'n yes… it was worth punching that sack of rancid piss in the mouth for talking to a female, let alone me, that way.
~grinz~


PS – guess I should wear long leather gloves not just during femdom torture sessions or out to BDSM clubs, but also when I'm shopping for groceries ~laughs~… never know what might happen.


Strapon Domina Cinara
Femdom Stories – Erotic Audio
Extreme Femdom Phone Sex
1-877-274-8292

I have zero tolerance for loud mouth crap from men.
Even those that try to bait me… if I entertain it, it's only for my own reasons.
It's not a matter of keeping up any image of female domination.
Even if I wasn't a dominatrix and had never gotten involved with femdom BDSM…
I'm still an NYCer… and we don't take that kind of bullshit from anyone.
Cruel Female Domination – Extreme Femdom Movies and Dominatrix Pictures – All Original Content.
Cock and Ball Torture – Bondage and Strapon Sex – Brutal Punishment
Dozens of Free BDSM Videos and Fetish Pics – Thousands More Inside

Listed Under: Female Domination
Tags: Domina Cinara, Female Superiority, Femdom Stories
Comments (2)
Speak to the Dominatrix -