Femdom Stories – VIII – Raped By A Strapon Dominatrix
By: Domina Cinara - April 1st, 2010

Many men tell me their asses ache at the thought of a huge dildo inside of them.
There's nothing homosexual about femdom strapon sex.
After all… it's a dominatrix shoving her cock up your ass, not some gay boy.
Though I must admit… sometimes I like to surprise my anal sex slaves…
With a nice forced bi taste of a real cock and it's hot load rammed up their needy butts.

Violated in The Park – Part VIII – "I'm Going To Rape Your Ass Now"
Femdom Strapon Stories
(By: Strapon Domina Cinara) How could I ever truly explain this to any of you?
I love those moments just before I rape a man's ass… when this intensity just seems to fill everything… and I feel almost drunk on the power and control… the sadist in me raging to be fully released… held back for just a moment as I stand inches from what I want… teasing myself until my breathing turns almost animalistic… my sight shifting suddenly, seeming to go darker yet more clear… everything closing in with such focus and single-minded purpose… til all noise leaves my hearing, but for the helpless sounds of my victim.
If you could feel what I do in those moments, you'd understand why I'm a dominatrix… why female domination is so absolutely natural and necessary to me… and why I'm a proud sadist who greedily feeds her extreme sexual addictions every chance she gets.
I could see he was scared.
Hanging there by his wrists against the fence… legs kicked open, pants down around his ankles, ass fully exposed. He was completely helpless, totally under my control, and so very scared… and I loved it.
Each time he looked over his shoulder at me, the sight of his frightened eyes sent a shiver of pure pleasure through my body… and I wanted more.
When I had kicked him hard in his ass, planting the tip of my thigh high boot in his asshole, I saw his eyes close tight in pain. I could have stopped right there and brought myself to orgasm so easily just by shoving a hand down my panties as I watched him suffer. But the huge dildo I was wearing demanded its sacrifice… and the demon in me had barely begun to feed.
A dry ass fuck has a really evil edge to it that can be so very good for a dominatrix like me. But when the dildo is as big as the one I had on at the time of this forced femdom story, strapon rape can take a lot of effort, particularly with a virgin ass. It's a great workout for your core muscles ~laughs~ – trust me, that's part of why my waist and hips are so firm and tight (seriously, though) – but when you want to pop a tight cherry butt and then fuck it fast and deep, there's nothing wrong with a bit of anal lube. I often use a good deal of spit during femdom strapon sex, but in a case like this I didn't intend on leaving any fluid evidence behind ~grinz~.
"Yeah, baby-boy… I'm going to rape your ass now," I said to him in this mocking-sweet voice as I lubed up the strapon, "I'm going to shove my big, thick cock up your butt and fuck you until I cum."
I got up close behind him, and started rubbing the tip of the dildo against his tiny asshole, wiping lube around the opening… teasing him with what was to come. His butt tightened as I did it, but the cheeks couldn't push the huge strapon away, instead they looked like they were clutching my cock in a tight embrace.
"Awe… yeah… you're a scared little slut, aren't you… a frightened little virgin afraid it's going to hurt… well, you should be scared… because I'm going to make sure it hurts… I'm going to use you like a dirty anal whore… and after I'm done turning your ass into my fuckhole, you'll never be the same."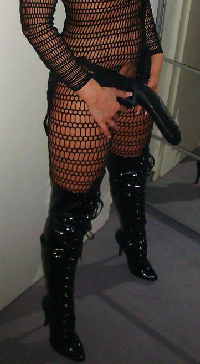 I spread my legs wide, dropping down a little to get under him… then I dug my hands into the soft flesh of his ass and pulled his cheeks apart. His body tightened up and his head whipped around to look at me, fear screaming in his eyes. I smiled when I saw the look in them… this wave of pure pleasure flooding through my body as I fed on his fear. Then I clenched my teeth and my smile turned dark as my hips thrust forward. He scrambled against the fence, frantically trying to lift himself up and away… but what comes up must come down… and I just shifted my body, keeping the strapon pressed hard against his asshole, getting the first inch in as I positioned myself perfectly under him. His scrambling only lasted a few seconds and cost him far more than it was worth. He couldn't go very far with his pants tied around his ankles and hands cuffed to the fence… and when he lost his footing my cock was waiting right there for him to impale his ass on.
And… it… was… fucking… fantastic!
I swear I almost exploded in orgasm right then… it was more perfect than I could have hoped for.
His body slipped suddenly and fell down on my cock with almost the whole thing ramming full up his ass in that single moment. He let out this scream that my panty gag did little to stifle… and he was wracked with these amazing convulsions that shot from his body, right through the strapon, to my clit. Holy shit was that fucking good and it went on so long I thought they would never end. I didn't even do anything more than try to keep my balance there as he twisted and turned in pain, shifting the base of the strapon back and forth against my clit. I didn't do a damn thing, I just let his pain ride my cock and it felt so friggin' good… I closed my eyes and let his suffering take me where I wanted to go.
But I knew it wouldn't really go on forever like that… and when his movements slowed, I opened my eyes and began to show him what forced anal sex is all about.
(This link – Femdom Stories – will be active when Part IX of this forced strapon story is posted.)


Strapon Domina Cinara
Femdom Stories – Erotic Audio
Strapon Dominatrix Phone Sex
1-877-274-8292

My favorite sex stories usually have a forced femdom element to them.
I like seeing men get tied up and used like dogs ~laughs~.
Sure, some can be favored slave pets that you keep and play with nicely.
But there are times that the female sexual sadist in me just screams to be fed…
Then the demon looks for a random male dog it can just tear into and throw away.

The Absolute Best in Strapon Dominatrix Phone Sex – Domina Cinara – 1-877-274-8292
From Patient First Time Anal Training For Beginners…
To Extreme Forced Femdom Fantasies For Advanced Sex Slaves.
Call Me Now And I Will Fuck Your Ass So Deep!

Listed Under: Forced Femdom, Strapon Sex
Tags: Anal Sex, Dominatrix, Femdom Stories, Huge Dildo, Strapon Dominatrix
Comments (25)
Speak to the Dominatrix -