Male Chastity Slave Suffers The Pain Of A Strip Club
By: Domina Cinara - April 28th, 2010

Personally, I think a cock looks very cute when it's locked in a little cage.
All packed away in a tight sleeve, where it can't cause any problems.
No chance of inappropriate behavior or unauthorized masturbation then.
Orgasm Denial Punishment
(By: Strapon Domina Cinara) I just got off the phone with one of my male chastity slaves… he pissed me off last week so for the past five days I've been having a lot of fun torturing him ~grinz~.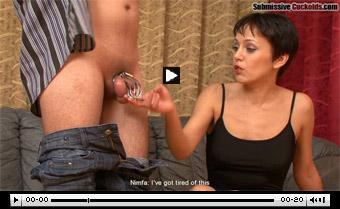 He's back in his chastity belt… isn't allowed to touch his cock at all… and I've been sending him to a strip club every night to get lap dances from the hottest girls there. He calls me while he's in the club and I talk to the strippers, telling them all about what a bad slave boy he's been… how pathetic and small his penis is… how he isn't allowed to touch or have sex with women at all… how he's in orgasm denial and hasn't cum in 3 weeks (so far)… and how he's sitting there in front of them, locked in a chastity belt that he can't remove without permission. I then make him buy lap dances while I tell the girls how I want them to tease him. Of course, no matter how hard they grind between his legs, he can't really feel any of it due to the belt ~laughs~.
The strippers are all into it now – they think it's hilarious. When they see him they run over to say hello to me on the phone ~laughs~ And the great thing is, because they know he's in a chastity belt, they dance all the more dirty… intentionally getting extra nasty with him since they know he's suffering and can't do shit about it.
He's going to call me back in a little while. Earlier was just him checking in so he could take the belt off and go to the bathroom… the real phone sex session will happen later on when he gets to the strip club. One of the girls told me last night that her girlfriend would be in today… and so the two of them are going to make out and kiss each others tits while lying on top of him ~grinz~. A nice lesbian show for him to suffer through.
I'm not sure how much longer I'm going to punish him… I'm having fun with this and that's really all that matters anyway. Besides, it's good for his training, and he loves male chastity so orgasm denial is just half punishment for him. But that's why I sent him to the strippers – taking the tease to an extreme like this is clearly pushing the line between masochistic pleasure and sexual pain for him ~grinz~.


Domina Cinara
Femdom Stories – Erotic Audio
Chastity Training Phone Sex
1-877-274-8292

Slave training is really all a matter of learning how the male ticks.
What is it that effects him most, both in terms of reward and punishment.
From there it's simply a manipulation of these things as fits what is to be taught.
The deeper you get your claws into him, the more complete the control becomes.
Submissive Cuckolds – Free Video Trailers and Sample Pictures.
Male Chastity Slave Punishment meets Femdom Cuckold Humiliation.

Listed Under: Male Chastity
Tags: Chastity Belt Punishment, Orgasm Denial, Slave Training
Comments (4)
Speak to the Dominatrix -
Dominatrix Phone Sex
Domina Cinara
1-877-274-8292

$2.49 minute
10 minute minimum
Book 60mins get 10mins FREE
Toll Free - No Connect Fee
Credit Card Only - Discreet
My Schedule
Phone Sex Schedule
Email Address
DominaCinara@gmail.com
Instant Message
YIM - DominaCinara
AIM - DominaCinara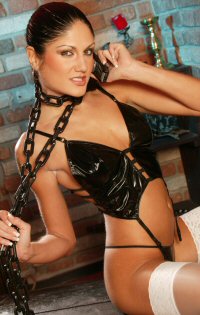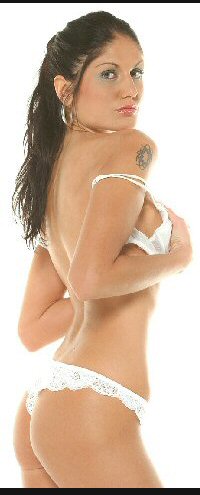 BDSM Sex Dates
Fetish Singles Dating
Real Girls Looking For You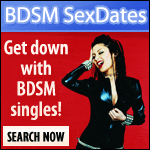 The English Mansion
Extreme Femdom Erotica
Dominatrix Pictures and Movies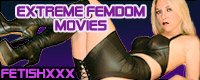 Strapon Tryouts
Extreme Femdom Strapon Sex
Free Videos and Pictures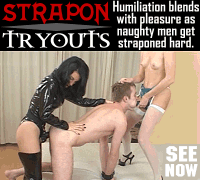 Cruel Humiliatrix
Bad Young Girls Love...
Small Penis Humiliation
ImLive Fetish
Sexy Dominatrix Goddesses
Live on Webcam
Hundreds To Choose From

The Absolute Best Femdom Phone Sex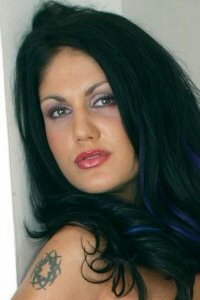 Call Domina Cinara Now
1-877-274-8292
$1.99 minute
10 minute minimum
Book 60mins get 10mins FREE
Toll Free - No Connect Fee
Credit Card Only - Discreet