By: Domina Cinara - April 28th, 2010

Personally, I think a cock looks very cute when it's locked in a little cage.
All packed away in a tight sleeve, where it can't cause any problems.
No chance of inappropriate behavior or unauthorized masturbation then.
Orgasm Denial Punishment
(By: Strapon Domina Cinara) I just got off the phone with one of my male chastity slaves… he pissed me off last week so for the past five days I've been having a lot of fun torturing him ~grinz~.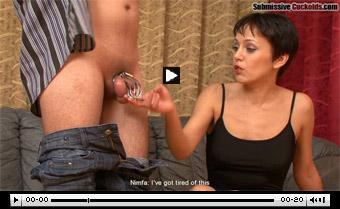 He's back in his chastity belt… isn't allowed to touch his cock at all… and I've been sending him to a strip club every night to get lap dances from the hottest girls there. He calls me while he's in the club and I talk to the strippers, telling them all about what a bad slave boy he's been… how pathetic and small his penis is… how he isn't allowed to touch or have sex with women at all… how he's in orgasm denial and hasn't cum in 3 weeks (so far)… and how he's sitting there in front of them, locked in a chastity belt that he can't remove without permission. I then make him buy lap dances while I tell the girls how I want them to tease him. Of course, no matter how hard they grind between his legs, he can't really feel any of it due to the belt ~laughs~.
The strippers are all into it now – they think it's hilarious. When they see him they run over to say hello to me on the phone ~laughs~ And the great thing is, because they know he's in a chastity belt, they dance all the more dirty… intentionally getting extra nasty with him since they know he's suffering and can't do shit about it.
He's going to call me back in a little while. Earlier was just him checking in so he could take the belt off and go to the bathroom… the real phone sex session will happen later on when he gets to the strip club. One of the girls told me last night that her girlfriend would be in today… and so the two of them are going to make out and kiss each others tits while lying on top of him ~grinz~. A nice lesbian show for him to suffer through.
I'm not sure how much longer I'm going to punish him… I'm having fun with this and that's really all that matters anyway. Besides, it's good for his training, and he loves male chastity so orgasm denial is just half punishment for him. But that's why I sent him to the strippers – taking the tease to an extreme like this is clearly pushing the line between masochistic pleasure and sexual pain for him ~grinz~.


Domina Cinara
Femdom Stories – Erotic Audio
Chastity Training Phone Sex
1-877-274-8292

Slave training is really all a matter of learning how the male ticks.
What is it that effects him most, both in terms of reward and punishment.
From there it's simply a manipulation of these things as fits what is to be taught.
The deeper you get your claws into him, the more complete the control becomes.
Submissive Cuckolds – Free Video Trailers and Sample Pictures.
Male Chastity Slave Punishment meets Femdom Cuckold Humiliation.
Listed Under: Male Chastity
Tags: Chastity Belt Punishment, Orgasm Denial, Slave Training
Comments (4)

By: Domina Cinara - April 26th, 2010

I take a very hands on approach to the training of a male sex slave.
Men are unruly little boys at heart… and bad boys do need spanking.
A woman's long leather glove leaves such a lovely imprint on a bare male ass.
Male Spanking Audio
(By: Domina Cinara) Slave training is a subject I am very well versed in, having handled numerous male and female pets in both my professional and private life. I firmly agree with the concept of giving a slave a good spanking or whipping as an introduction to their training (which form chosen depends on the experience and character of the given slave). A good, hard spanking done the very first day sends a clear message to the subject, drawing a line between what they were and what they are going to become.
With this in mind I decided to record the following femdom audio. The subject of male spanking is an amusing one to me, so this serves as more than just an introduction to those of you wishing to submit… it also puts a nasty good smile on my face -

Free Erotic Audio – Spanking My New Male Sex Slave

Nothing draws the line between free and slave in a man's mind faster,
Than the application of a strong female hand to his bare bottom.
And I'll be wearing a pair of long leather gloves when I spank you.
I love the sound of leather against a man's soft flesh.

Femdom spanking is much more than just slave punishment. As a female sexual sadist I enjoy seeing my pets suffer for my pleasure. The key to discipline though, is balancing your own pleasure with effective instruction – if the dominatrix enjoys it too much and apply it too often outside the bounds of slave punishment, male spanking can become "routine", losing it's effectiveness as a means of correction.
Check out the rest of my Femdom Erotica section to listen to more erotic audio clips I've recorded… you'll also find femdom stories I've written, orgasm denial assignments, and sexy dominatrix pictures of beautiful me. I'm always adding more to my diary, so check back here often.


Domina Cinara
Femdom Stories – Erotic Audio
Dominatrix Phone Sex
1-877-274-8292

There are all different kinds of punishment that can be used when training a slave.
Orgasm denial and chastity are particularly effective means of handling a male.
And the female slave reacts wonderfully to rope bondage and the use of a leather whip.
But, simple as it is, good old fashioned femdom spanking never loses its charm.
Listed Under: Erotic Audio, Male Sex Slave
Tags: Femdom Audio, Femdom Erotica, Long Leather Gloves, Male Spanking, Slave Training
Comments (3)

By: Domina Cinara - April 23rd, 2010

Does the thought of having a real cock up your ass scare you?
If I stripped you naked and tied you up… then brought a couple of well hung slave studs in…
And told them to fuck your ass and mouth while I directed every thrust…
Would you fight it… or would you give in to your forced bi fantasies?
I bet you'd be a good little slave slut and do whatever you're told.
Forced Bi Phone Sex
(By: Domina Cinara) So I've got this guy I've been doing forced bi phone sex calls with for a couple years now. He started off the way most do – your basic anal training and strapon play – followed by some pretend forced cocksucking with "realistic" dildos. At first he kept saying how he wasn't "gay" or anything like that, just wanted a strapon domina to use and humiliate him etc. But when I put him on a daily cum eating schedule, he finally admitted to me that he had bi sex fantasies.
I'd known this since our earliest phone sex sessions. I used to purposely make comments about how I was going to make him suck a real cock someday, or how I was going to post his name and number to a gay sex exchange, etc… just to tease him. It got him so excited, even though he tired to hide it at first ~laughs~. He wanted to be under the control of a strapon dominatrix who would peg and own his ass, but also make him to live out his forced bi fantasies. Lot of closet cock sluts need a dominant woman like me to command them into being the whores they want to be.
But let's get to the real point ~grinz evil~
We've been playing out forced bi stories and scenes through phone sex for months now… and tonight is the big night.
Yup… tonight he's going out for the first time to suck some real cock!
~does her happy dominatrix dance~
He's in the city already and going to a video store that has a gloryhole setup in the back. He thinks he's going to kneel down and suck a single anonymous cock to orgasm and go home… but oh no… I've got a big surprise for him ~laughs~.
You see, during our forced bi phone sex calls there are all kinds of femdom stories we play out… it used to be simple stuff but it's gotten really heavy and dirty now ~grinz~… and there's one thing we do very often as part of most scenes.
I made him get a pair of long dildos with suction cup bases… he sticks them to the walls of his hallway, opposite one another… then he gets down on all fours, taking one in his ass and one in his mouth… and he rocks back and forth on them, as if he's being fucked from both ends. When I let him have an orgasm, he smears the cum all over one penis and then sucks and licks it all down.
What started out as bi sex curiosity has turned into him dreaming about being the over stuffed anal slut in the middle of a gangbang… well, ready or not here they come ~laughs~.
So I called two gay guys I know and told them to head down to the same gloryhole and wait for him.
He's really scared but really excited… and he has no idea these gay boys are waiting there for him. I just wish I could see the look on his face when they corner him and push him into a booth. I told them that if he really freaks out they can drop my name, but otherwise just go for it and say nothing! They're a lot bigger than him so they'll easily overpower his sissy ass.
We've been doing dominatrix phone sex calls for so long that I know him really well… he'll probably freak at first but then he'll submit and really get into it.
It's quite possible he will leave thinking he was grabbed and raped… and not know anything about me setting it up. I really am certain he will give in without them saying anything about me… he wants this so bad.
It's not truly a forced bi gangbang, since it's only two gay guys… but more than enough for him right now… and I'm sure it will be a night he'll never forget ~grinz so evil~
It's probably happening right now ~laughs~


Strapon Domina Cinara
Femdom Stories – Erotic Audio
Forced Bi Phone Sex
1-877-274-8292

Could you be a cum eating whore if that's what I wanted you to be?
Forced to suck as many cocks as I put in front of you… swallowing down each orgasm.
With me behind you… my strapon deep in your slut ass… directing the show?

Forced Bi Phone Sex with the Infamous Domina Cinara – 1-877-274-8292
I'll train you for all the cocksucking and cum eating you can handle.
And when you're ready… I'll set you up with the real thing and fulfill all your fantasies.
Listed Under: Dominatrix Phone Sex, Forced Bi
Tags: Dominatrix, Forced Cum Eating, Phone Sex
Comments (32)

By: Domina Cinara - April 21st, 2010

Can you imagine what it feels like to beg a woman to let you cum?
To be made totally helpless by her… suffering the need to orgasm…
While she just continues to tease you, smiling as your balls turn blue?
I can… and I'm going to have so much fun doing it to you.
Orgasm Denial Audio
(By: Domina Cinara) I love hearing men beg to cum… especially that sound of desperate need that comes over their voices when the pleasure becomes so intense, it's actually painful.
That's where I'm going to take you… and that's what I want to hear in your voice.
When the cum is so backed up inside your balls, and you've been teased to such an extreme, that it feels like you'll die if you don't orgasm. I know you'll sound so sweet for me then… and if you beg to cum the way I want you to, I may even let you enjoy what you need so bad.
This erotic audio begins the kind of intense tease and denial session I have in mind for you. How extreme it gets all depends on how well you give up cock control to me… and how quickly you learn to beg properly -

Free Erotic Audio – I'm Going To Tease You Til You Beg To Cum

If you want to cum tonight… you're going to have to beg.
I'm going to tease you… and play with you… and you're going to do everything I say…
But I'm not going to let you cum… not until you beg exactly the way I want you to.
And if you don't get it right tonight… I'll leave you to suffer alone in orgasm denial.
And then we'll start the cock stroking again tomorrow.

I don't care how long it takes. I'll play tease and denial games with you until your blueballs turn a lovely shade of dark painful purple. I'll keep you on the edge of orgasm for hours if I have to, just to hear you submit the way I want. And when I'm done with you, you'll be exhausted… completely spent… and totally empty ~grinz~
Learning how to cum on command, and to beg properly when in need is a fundamental part of the training of a male sex slave. Do you have what it takes to serve a dominatrix as her sexual toy? We'll see.


Masturbatrix Cinara
Femdom Stories – Erotic Audio
Tease and Denial Phone Sex
1-877-274-8292

I like having total cock control over my male slaves…
It's why guided masturbation is one of my favorite types of phone sex
Your hands become mine… subservient to my will… obedient to my command.
Listed Under: Erotic Audio, Tease and Denial
Tags: Cock Control, Femdom Audio, Femdom Erotica, Masturbatrix, Orgasm Denial
Comments (9)

By: Domina Cinara - April 14th, 2010

As a humiliatrix, I wonder what it must be like to be a guy with a small penis?
When you were going through puberty, did you pray each night for it to get bigger?
Did you cry and curse the big dick fairy godmother for not coming to bless you with a real cock?
And when did you finally give up and embrace small penis humiliation as your way of life?
Was it in the locker room in school… or the first time a girl laughed you out of bed?
Humiliatrix
(By: Domina Cinara) I love looking at these small penis humiliation websites… the ones where guys post pictures of their tiny cocks so women like me can have fun laughing at them.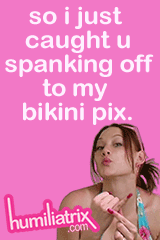 Like every single one of these shrimp dick losers asks the same questions – "Do you think I could satisfy a woman with my small cock?" or "Is there any woman out there who would want my small penis?" – as if the answer wasn't obvious. Put it this way stupid… if you've got so little down there that it's hard for you to even masturbate, what idiot delusion would ever dare make you hope a woman could enjoy that ridiculous joke you've got between your legs? If you haven't got enough cock for proper stroking, you don't have near enough to be worth a woman's time.
Seriously… why do you think so many women are experimenting with bisexuality and going lesbian? It's not that they don't want to be penetrated – they love strapon sex… trust me, I fuck enough of them ~grinz~. It's that they're tired of wasting their time with guys who simply do not measure up. The days of micro male charity and arranged marriages are over, little boy. Bend over and spread your ass cheeks… if you've got no cock, then you must have a pussy ~laughs~.
And most of the guys posting pictures to these small penis humiliation sites are big fat hairy slobs too – like that's really helping things when it comes to getting a woman to have sex with you, you stupid shit. Try skipping the "nachos mucho grande" and eat a carrot for once in your bloated cesspit of a life and maybe at least you'd have a shot at a date with a girl… even if it's still only going to end in humiliation for you and disappointment for her (unless she's a closet humiliatrix, in which case she's going to get a good laugh at least).
Half the time you can't even see their cocks because they're hidden in this ugly mess of pubes and fat rolls. Some ask if they should shave the hair off so the penis can actually be seen, as if that's going to help things. My thought is – if you're cock is so small that it gets lost in your pubic hair, all shaving is going to do is make you look even more like you missed the puberty boat. At least if you have hair down there, your penis will have someplace to hide in shame. (Though I do often make my small cock humiliation boys shave that shit, since I do want to see how small they really are – makes it easier to actually see the tiny little thing during humiliatrix webcam sessions ~laughs~.)
I constantly get small penis humiliation pictures sent to me by dominatrix and humiliatrix friends. We have whole mail groups dedicated to stuff like this where we swap pictures and forward comments to laugh over. The stories girls tell about these guys are hilarious too, especially the public humiliation scenes which are always a favorite of mine. Yeah, girls can be very mean… imagine whole groups of like 100+ women laughing at pictures of your small cock… forwarding insult after insult in response to what they see. We've had humiliatrix contests to see who can come up with the best male humiliation captions for the really choice ones.
We never know who these guys are since the upper body is cut off in the pictures and no real names are given… and the focus of the shot is so small that it's not like there are any distinguishing marks for identification ~laughs~. But who cares… none have enough penis on them to make a lasting impression anyway ~laughs~. The jokes and stories we tell each other are the only thing worth remembering.


Humiliatrix Cinara
Femdom Stories – Erotic Audio
Small Penis Humiliation Phone Sex
1-877-274-8292

Guys who are seriously into male humiliation always get off on the idea of public exposure.
And I love setting them up for the embarrassment they both want and deserve.
Back in high school I made this boy to expose himself while making a speech on stage.
At first the audience started laughing because he dropped his pants…
Then they were all pointing at how small his cock was… that's when they really started laughing.
His parents had to pull him out of school ~laughs her ass off~ it was so great!
Humiliatrix – The Premiere Small Cock and Male Humiliation Website.
Hot Young Spoiled Princesses Abuse and Misuse Shrimp Dick Losers.
Free Sample Movies, Pictures, Stories and Audio – Dozens of Beautiful Girls.
Hundreds of Clips Waiting Now – New Content Added 3 – 4 Times a Week.
Listed Under: Small Penis Humiliation
Tags: Humiliatrix, Male Humiliation, Small Cock
Comments (10)

By: Domina Cinara - April 11th, 2010

Far more men have bisexual and gay fantasies than would ever admit it.
Any femdom stories I write on the fetish always have a huge response.
As a dominatrix who has liberated many men through forced bi sex…
I see myself as doing good and charitable work for the sexually repressed.
Nothing wrong with a little gay rape and forced cum eating to break inhibitions.

Violated in The Park – Part XI – "Turned Into A Gay Whore For A Forced Bi Gangbang"
Forced Bi Stories
(By: Strapon Domina Cinara) And here's the last chapter in this forced femdom story…
"Mind if I take a turn on that pussy?"
Those words still bring a smile to my face as I remember them now ~grinz~
They were spoken by a rather large black man who was standing off to the side, slowly stroking his massive cock as he watched me strapon rape the man I had handcuffed to the park fence. His voice startled me… I had not known there was anyone there… my focus having been entirely on the amazing orgasm I had gotten off of grinding my victim's no longer virgin asshole.
Did I mind if this well hung black guy took a turn on my helpless white boy's "pussy"? ~laughs~
I'd taken his anal virginity… fucked his ass with my strapon til I had an orgasm… and left his butt well broken open for more cock.
What the hell did I care how many dicks went inside of him now? I'd just got done forcing him to take my strapon… gay rape sounded good to me. His ass could get stuffed full of cum til he started coughing up mouthfuls of sperm for all I cared ~laughs~
I had him first… now he was just a used up anal whore as far as I was concerned… and handcuffed to the fence like that, he sure wasn't in any position to say no.
I wasn't going to leave my panty gag in his mouth though… never leave evidence behind ~laughs~. So I took the knife from my leather handbag (I always carry this long, slim knife with a razor edge), cut his underwear off, and replaced my panties with his briefs.
My anal whore was aware of what was about to happen to him… how my strapon rape of his ass was about to turn into his first forced bi experience with a very well endowed black man. When the panty gag came off he started begging and pleading with me… saying how he wasn't gay and that he wouldn't tell anyone what I did if I just let him go now.
Before I could say anything, his big black stud replied for me…
"Stop tryin to talk like you're a man… you can't be gay… only men are gay… how can a sweet little girl like you be a faggot… pussy like your's is made for cock."
I couldn't have said it better myself.
It was then that I saw there were two other black guys standing off in the shadows. They were both eyeing me hard, but the look I gave them took any thoughts of having me out of their heads, and they instead focused their attention where I expected them to.
As they walked over to join their friend, they both unzipped their pants and pulled out cocks nearly as big as the first guy's. It was going to be a forced bi gangbang… what a perfect ending ~laughs~.
They started grabbing and slapping his ass… spreading his cheeks to examine his helpless little asshole… running hands up his chest to pull his nipples and grab his flesh as if he had tits… shoving fingers up his butt to finger fuck him… a blur of very rough foreplay that made the little bitch start to cry like a baby ~laughs~
While one got down behind him to probe his ass more intently with his fingers… the others wrapped their belts around the white boy's ankles, pulling them wide apart, and tying them to the fence. They then ripped or cut what was left of his clothes off his body, leaving him completely naked and spread.
The white boy looked terrified, his head whipping back and forth, fear going to new heights as he watched the men surrounding him, knowing he was about to be the bound anal slut in the middle of a forced bi gangbang.
"Yeah… this white pussy is nice and wet… just the way I like it… I'm gonna dump a hot load of cum deep inside of you bitch… then maybe I'll dig it out and feed it to you later."
The first black guy positioned himself close behind the soon-to-be gay whore… rubbing his penis up and down the crack of the white boy's "pussy"… and then he suddenly lunged forward and forced his cock inside as his friends laughed and cheered him on. The white boy could do nothing but scream into his gag and take it as these hard, pounding thrusts invaded his body… the big black hands of the stud locked tight on white hips, forcing his bitch to be still. It was like seeing a huge bull violently rape a helpless little sheep… the white boy could do nothing but cry and claw at the fence while that huge black cock further violated his already broken bottom.
I slipped out of my strapon as I watched. As much as I was enjoying the performance – a forced bi gangbang is a wondrous joy to behold ~laughs~ – I knew I'd better get out of there before anyone else showed up. The possibility of seeing some forced cum eating after a chain of anal creampies of course had my attention, but things were escalating fast and I had no intention of being there if the "authorities" suddenly arrived. So I gathered my things, putting panties and strapon in my leather handbag, and silently walked away.
As I disappeared into the shadows I wondered what would happen to my anal whore. Would they just fuck him and leave him there to be found in the morning… cum dripping out of his well used asshole. Or would they perhaps take him home and truly make him their anal whore… kept as a forced bi slave… passed around as a cum slut between their friends… sold off to serve customers willing to pay for his mouth and pussy… never to be seen again.
I imagined some forced crossdressing too… they were treating him like a little gay whore, so might as well dress him like one too. Who knows… maybe someday I'd see him on a street corner late at night with nothing but a pair of white thigh high boots, stockings, garter belt, panties and a bra on… with a big black pimp a few feet away, closely watching over his bitch. Gay rape could be his invitation into a whole new exciting lifestyle full of lucrative career opportunities ~laughs~
And so it was with these pleasant thoughts dancing in my head that I went home that night… The End.


You can find the first chapter of this story here – Violated In The Park. And visit my Femdom Erotica collection linked on the upper left of this page to find other femdom stories I've written along with dominatrix pictures of me and free erotic audio clips I've recorded.


Strapon Dominatrix Cinara
Femdom Stories – Erotic Audio
Forced Bi Phone Sex
1-877-274-8292

Public sex acts often have a way of running their own course.
Like in the case of this story, things started off with bondage and strapon sex…
And then unexpectedly ended in an interracial forced bi gangbang.
When you have sex in public all kinds of possibilities present themselves.
A good dominatrix will take advantage of interesting opportunities.

The Absolute Best in Forced Bi Training and Anal Sex Slavery – Domina Cinara – 1-877-274-8292
I'm Going Treat You Like A Slutty Girl and Turn Your Ass Into A Well Fucked Pussy.
You're Going To Be My Dirty Little Gay Gangbang Slave.
Call Me Now You Filthy Cum Slut… You Know Your Ass Needs To Be Raped!
Listed Under: Forced Bi
Tags: Anal Sex, Dominatrix, Femdom Stories, Forced Cum Eating
Comments (32)

By: Domina Cinara - April 10th, 2010

While I do like seeing my slaves orgasm from strapon sex…
The real reason I put on a huge dildo and shove it inside of them is so I can get off.
Female domination is a way of life for me, and it's the key to my sexuality.
I love the feeling of power and control a strapon gives me.
Especially when I'm teaching some helpless slut how wonderful femdom rape can be ~laughs~

Violated in The Park – Part X – "Anal Domination Always Makes Me Cum"
Femdom Stories
(By: Strapon Dominatrix Cinara) Picking up right where I last left off…
I was really pissed off at this stupid fuck for cumming all over my long leather gloves, and I took it out on his ass with deep, punishing thrusts of my strapon cock. It didn't matter how tight he was, I just forced it home again, and again, and again… each movement of my hips like that of a fist punching something hard. I intended to remove every bit of virgin from his ass, leaving nothing but a completely blown out asshole when I was done.
I even thought about anal fisting him when my strapon sadism was fully fed… my gloves were already ruined by his dirty orgasm, might as well leave them shoved up his butt with the rest of the filth. I thought he might look pretty handcuffed there with a pair of long leather gloves hanging half out his ass, looking like some kind of twisted dominatrix made tail. (Wonder if I could do that with my puppy slave, her ass is really well trained. Feed a long leather glove up her butt… then see if I could work my hand all the way into it while its in her ass ~laughs~… puppy slut would probably cum a dozen times during it.)
I was so focused on fucking his ass and bringing myself to orgasm at his expense, that I didn't notice we had company. The panty gag muffled most of his cries, but it did nothing to stop the noise the fence was making each time my body slammed into his… noise loud enough to be bound to attract attention.
My hands were locked in his hair… legs wide spread apart… thigh high boots planted firmly to each side of him… with my hips down just below his, giving me the perfect thrusting angle to go deep inside. I closed my eyes and tuned out everything but the beautiful noises he was making and how good my pussy was feeling as I forced the strapon in and out of him. When I get lost like that in the act of strapon sex, I don't let anything intrude… I just focus totally in the ass fucking and how good it's making me feel. Anything short of a nuclear bomb dropping outside won't snap me out of it.
My legs tend to shake when I cum, and the position I was in, let alone the thigh high boots I was wearing, didn't help my stability a bit, so when the orgasm began to flood through me I forced the strapon in as far as it would go, then held myself there, grinding my hips slowly against his ass. Anchored like that in his ass, I bent his head back even farther, my hands holding on tightly as I almost hung there by his hair… my knees shaking with the intensity of what was coursing through me.
When I was done, I slowly slid the strapon out of his well used asshole… my breathing was heavy and my body electric… the waves were still going through me so nice… and then a voice from behind me broke my semi-trance.
"Mind if I take a turn on that pussy?"
Standing there… about 6 feet from us… was this big black guy, stroking an immense cock that was even bigger than the huge dildo I had on.
For a moment I was too surprised to respond… then I just smiled, thinking how polite it was for this guy to silently wait his turn like that. I love gentlemen with good manners ~smiles~.
"Sure… do whatever you want… I'm done with this whore."


(The last part of this forced female domination story will be up tomorrow. I'll activate this link – Femdom Stories – when it's posted.)


Strapon Domina Cinara
Femdom Stories – Erotic Audio
Female Domination Phone Sex
1-877-274-8292

Forced bi sex is punishment and humiliation for some…
But for many, it's an excuse to enjoy a part of themselves with less guilt.
A male slave who wants to feel a real cock in his ass and mouth…
Can use female domination as the excuse to experience it…
The dominatrix taking his control away in a forced bi session…
Which allows the man to say he didn't choose to be a faggot… but was made to.
Cruel Dominatrix Pictures Starring Mean Young Girls – Free Humiliatrix Video Samples
Nasty Princess Sadism Unleashed On Helpless, Pathetic Male Scum
Listed Under: Female Domination, Strapon Sex
Tags: Anal Sex, Femdom Stories, Long Leather Gloves, Strapon Dominatrix, Thigh High Boots
Comments (0)